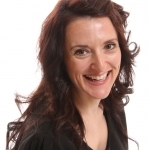 Hi My name is Rebecca Clevett is a Skincare Therapist with over two decades of experience. I qualified in 1990 with a BTEC national diploma at the London College of Fashion.
It was a profession I wanted to fulfill from a small child, I STILL  love my job and am very passionate about what I do.
I have run my own business since 1991 and since becoming a mum, I  now work from a beautiful summerhouse in my garden which provides the most tranquil and peaceful environment for treatments.  I continue to receive regular, ongoing training and as a Dermalogica Skin Care Therapist I am among the best trained in the industry and I have  many postgraduate certificates from the International Dermal Institute.  I have a very thorough and in-depth knowledge of your skin and how best to look after it.
Since all of our lives have become so busy and we have less time for ourselves I believe that having a treatment should be an "experience" not just another job on the long list of things to do. It is my job to give you an "experience" every time you visit BEKE whether it be a long or short treatment and to create some escapism from our fast pace world.
BEKE (pronounced (bk) Skincare is set in a white garden in  the grounds of a converted Chapel. BEKE (bk) is a Hungarian word meaning peace…This is what you are promised when you visit,along with my expertise,  a beautiful setting, a wonderful experience, some listening ears and results!
BEKE is not just a beauty salon. It is skin care centre that specialises in the care of your skin, the largest organ of the body. I also provide all of the regular treatments from waxing to massage that you would expect to find.
My holistic beliefs are that in order to achieve healthy skin you need a need a healthy mind and body. I believe that providing touch, is a therapy and I am focused on skin health. I recognise that we are all special, unique and ever changing and therefore your treatment should reflect this. All I ask is for you to lye back and put your skin in my hands.
I look forward to treating you and offering you some peace and tranquillity…
REBECCA CLEVETT
DERMALOGICA EXPERT
Rebecca Clevett has been awarded Dermalogica Expert status, recognising her/him as one of the highest trained skin care professionals in the country.
As a therapist, Rebecca Clevett has completed on-going postgraduate education at the International Dermal Institute, training with the world's leading professional skin care brand, Dermalogica.
To achieve this Expert status, Rebecca Clevett has completed a succession of specialist product, treatment and business workshops. They have also been involved in a range of unique workshops, which are offered only to the most skilled and knowledgeable therapists. This has enabled Dermalogica to award and recognise them as one of the best in the industry.